Skip to Content
The New
Center of
L.A.
Culture
The Delphi Los Angeles
In Ancient Greece, Delphi was considered the center of the world. A few thousand years later, that essence now resides at 550 Flower Street: a staple of downtown Los Angeles' silhouette. Once the headquarters of Superior Oil, and then the focal point of the city's early 2000s revitalization, our address is once again rewriting the script for creativity, culture, and hospitality.
An Iconic Address
With its Moderne-style architecture, the handiwork of famed architect Claud Beelman, The Delphi has been the literal blueprint for L.A. living—setting trends and turning heads of locals and visitors alike—over the past seven decades.
A Craft Coffee & Tea Bar
Exclusively serving La Colombe coffee and tea, our baristas-turned-bartenders craft a range of caffeinated beverages, light bites and innovative cocktails—all best enjoyed in our stunning lobby or outdoor sunken patio.
An Elevated Experience
To us, the ultimate luxury is service that's personal. Not too refined or rigid. We look forward to welcoming you into our community, but don't worry—there won't be any red carpets or white gloves.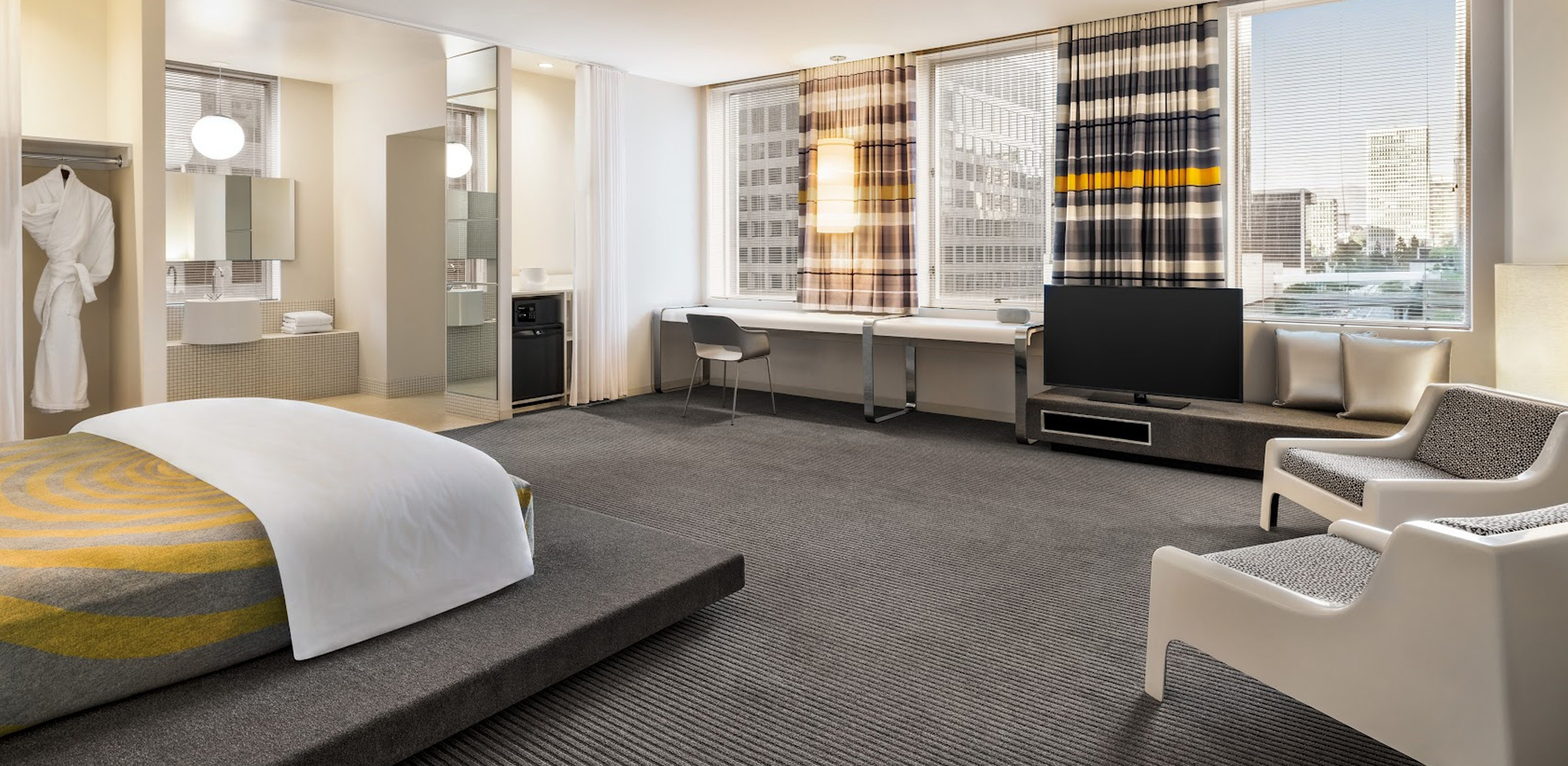 From premium amenities to personalized experiences, our 205 spacious guest rooms and two penthouses create an environment of sophistication, elegance, and comfort that sets The Delphi apart.
Intrigue the Appetite
Let your palate decide what's on the table—classic American diner fare, Japanese-omakase creations, or some light bites to get started.
Events
Organized Occasions
Bring together a few friends and make a few more while you're with us. From casual to corporate, we've got all the space and amenities you need, and then some.
Experience Seekers Speak
Wish I Could Give 10 Stars
"Great hotel and even better bar. You can tell they put a lot of thought into the cocktails and it shows through the taste and presentation. The staff is also extremely friendly and knowledgeable."

–Austen
A Gem in Downtown
"Everything was great from the spacious rooms to the meeting space and food and beverage. The customer service was refreshing too! Highly recommend this hotel for business or leisure travel."

–Shana
Excellent Stay!
"Wow... did I enter one of the coolest hotels in Los Angeles or what?! Absolutely terrific value, considering the rooms, service from the staff, and delicious drinks and food. I will absolutely stay here again."

–TravelC